Lighthouse School of Excellence
Welcome to Lighthouse School of Speech, Drama and Communication.
We specialise in teaching children and young people ages 6 – 21 drama and London Academy of Music and Dramatic Arts (LAMDA) Exams. We also offer Book Club sessions that nurture the love of reading for Primary and Secondary Years .
These fantastic and broad range of classes take place in schools and community settings across South London but we have also become experts in online teaching, allowing us to reach students across the globe. Our Weekly Youth Theatre (Drama & LAMDA Classes) take place after school during term time.
From students who love acting and want to learn more about genres of theatre, to those who need to work on their English or struggle with confidence, our classes really are for everyone.
We can't wait to be part of your creative journey.
Lighthouse Showtimers (Adult Drama for the over 55's)
The link opens a Google Form in a new tab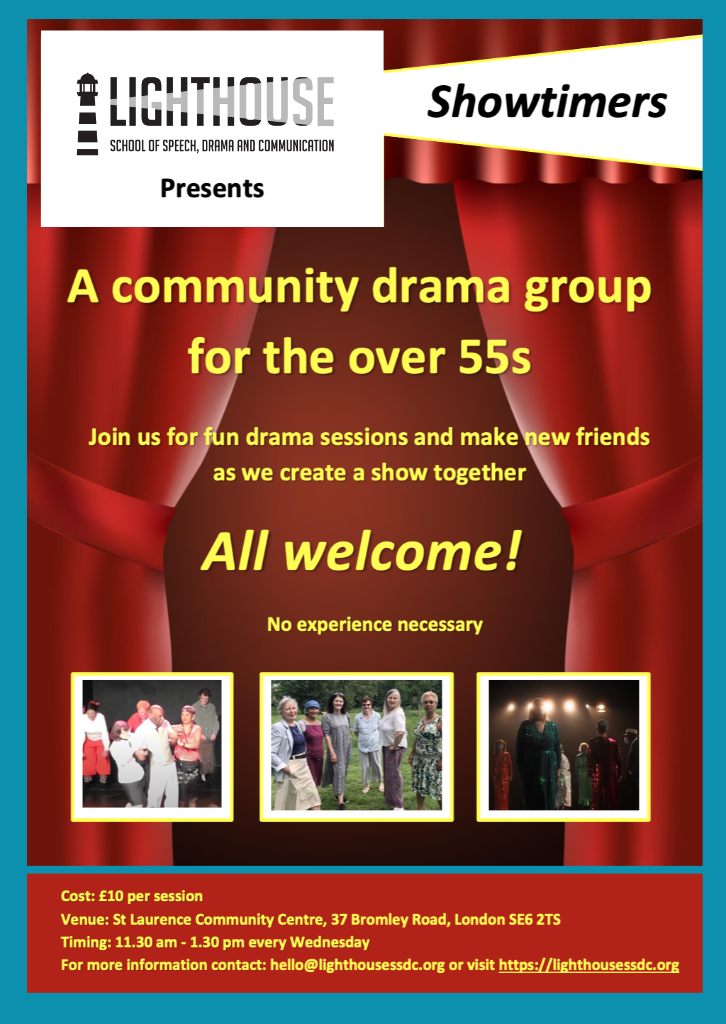 Lighthouse School of Speech Drama & Communication believes that people from all backgrounds, ages, and cultures should be given a voice through the performing arts. So we thought why should the young ones have all the fun and launched the LIGHTHOUSE SHOWTIMERS, an exclusive over 55's adult only drama group run by the dramaturg Laura Kressly who has trained as an actor and director both in the US and UK.
Laura is passionate about the power of the arts and her pedagogy is inclusive and responsive to peoples needs and interests, with an emphasis on having fun and developing drama-based skills.
The sessions will focus on creating performance, culminating in a yearly performance at a theatre. The group will have the opportunity to take part in script writing, devising, script work, improvisation and singing.
This is a fabulous opportunity to meet new people, develop new skills and unleash your creativity.
Where:
St. Laurence Community Centre
37 Bromley Road
Catford
London SE6 2TS
When:
Every Wednesday 11:30am to 1:30pm
Cost per Session:
£10
Whether you are an established teacher, teaching assistant, drama enthusiast but new to the delivery of course content, the Lighthouse Teacher Training program offers an in-depth teaching of the complete LAMDA syllabi and gives valuable tips, insights into how to deliver lessons.
The next LAMDA Teacher Training Events are coming soon
Primary and Secondary Years Book Clubs
Dear Parents,
Primary and Secondary pupils love joining our after-school online book clubs. Register your child by completing the 'Lighthouse School of Speech, Drama and Communication' confidential online form.
Book Club – Primary Years
Book Club – Secondary Years